Looking to lighten up your dinner but keep all of your family's favourite Mexican flavours? These Cauliflower Rice Burrito Bowls are a great way to pull more plants into your family dinner without sacrificing any taste. Let the family pick & choose the contents of their own bowls for an easy dinner everyone will love. Top with guacamole & salsa, or add some kick with hot sauce, crumbled tortilla chips, or feta. When the guacamole is the star, like it is here, we use chunky, chip-breaking guacamole made with 95% avocado from Yucatan Guacamole. We also highly recommend these Fresh Guacamole Pizzettes! 
JUMP TO RECIPE
---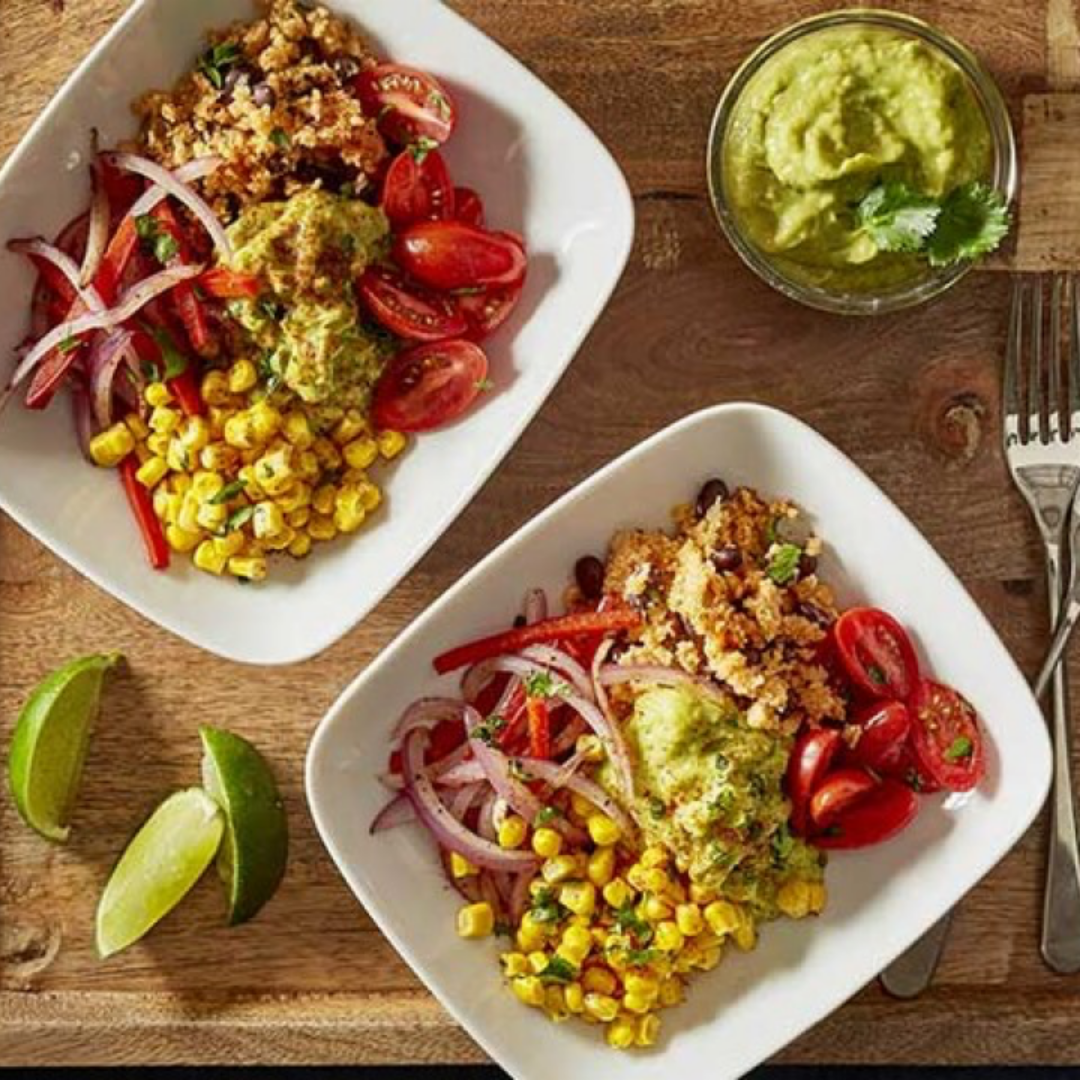 ---
We love a meal where everyone stays in charge of their own dinner choices. Because some nights we just don't have energy left for dinnertime drama! For these Cauliflower Rice Burrito Bowls, we start with a cauliflower & rice mixture with beans and guacamole in each bowl, and then toppings and protein add-ons are everyone's own choice. Voila...no drama. These bowls are so easy & such a family hit that they are in high rotation rain or shine. The creamy fresh taste of Yucatan Guacamole is perfect for bowls, tacos, burgers and so much more!
JUMP TO RECIPE
---
CAULIFLOWER RICE BURRITO BOWLS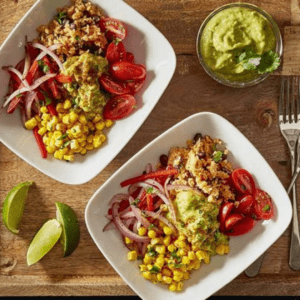 All the burrito bowl goodness without the rice!
Ingredients:
2 Tbsp. extra virgin olive oil, divided
4 cups grated cauliflower (1 small head)
1 Tbsp. minced garlic
2/3 cup mild chunky salsa
1 (15-oz.) can low-sodium black beans, rinsed & drained
1 red bell pepper, cored and thinly sliced
1 medium red onion, thinly sliced
1 cup fresh or frozen corn kernels, thawed if frozen
1 1/4 cup Mild Yucatan Guacamole
1 cup cherry tomatoes, halved
1 Tbsp. taco seasoning, optional
1/4 cup finely chopped cilantro, optional
Mexican chile pepper hot sauce, optional
Lime wedges
Instructions:
Heat 1 Tbsp. oil in a skillet over medium-low heat. Add cauliflower and garlic. Cook 3 minutes or until cauliflower begins to soften, stirring occasionally. Stir in salsa and black beans; cook covered for 10 minutes or until cauliflower is tender. Set aside and keep warm.
Heat remaining 1 Tbsp. oil in a skillet over medium heat. Add bell pepper and onion. Cook for 5 minutes or until vegetables are just tender, stirring frequently. Place corn in a small microwave-safe bowl. Cook on high (100% power) in a microwave for 1 to 2 minutes or until heated through.
Divide cauliflower mixture, bell pepper mixture, guacamole, corn, and cherry tomatoes among four bowls. If desired, sprinkle with taco seasoning and top with cilantro. Serve with hot sauce, if desired, and lime wedges. Enjoy!
Yucatan Guacamole started making guacamole 28 years ago in the fertile, sun-kissed Michoacán fields of Mexico where avocados originated centuries ago. Combining old-world tradition with new-world methods, Yucatan's story begins with the finest fruit, the best climate, and a love of great guacamole. Yucatan's avocado products are made with the highest standards of excellence. We can't get enough of their chunky, chip-breaking guacamole made with 95% avocado. Simply put, it's the best tasting, most authentic guacamole you can buy!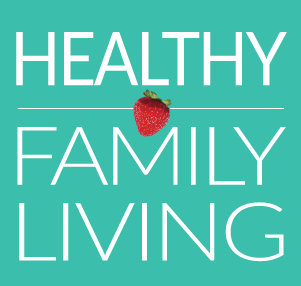 Wondering what to do with the kids in Metro Vancouver this weekend, or what to make for dinner? You can find it at HealthyFamilyLiving.com! From the Sunshine Coast to the Fraser Valley, we're the best online resource for busy parents looking for practical tips for healthy, active, sustainable living. For the latest on family events, outdoor adventures, birthday parties, camps & classes and kid-approved recipes, follow us on Facebook and sign-up for our parent-approved e-newsletter!