Want bacon & eggs during the week but don't have time? These Bacon Egg Bites are a breakfast game-changer. Make them ahead so you can grab & go any time! And best of all, these babies are actually "SOUS VIDE" with no fancy equipment besides an oven, a pan, some water, a blender, and a silicone muffin tray.
JUMP TO RECIPE
---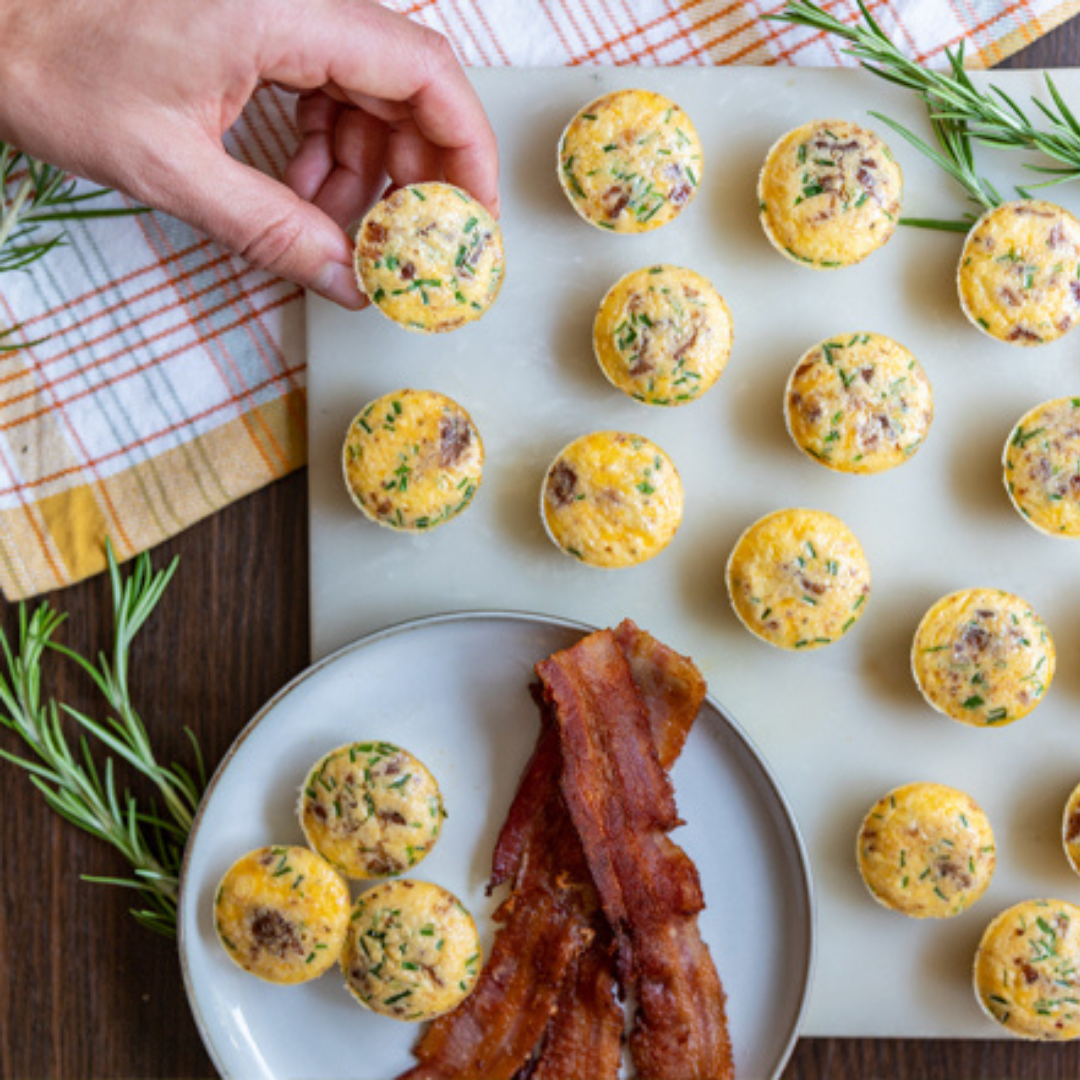 ---
No more drive-thru egg bites for us! These babies are easy to make and can be filled with all the ingredients you love (like Grimm's Traditional Thick Sliced Bacon). If you've ever made a cheesecake, this technique is similar in that you're creating a steamy environment in the oven to "sous vide" them and have them stay fluffy (even days later!). Creating a steamy environment is easy — simply preheat the oven with a pan of water inside. You can also add an inch of water to the pan that you place the silicone muffin tray on. Since these silicone muffin trays are quite flimsy, you'll need to place them on a pan or put the silicone pan into a standard steel muffin tray.
We love that Grimm's Fine Foods guarantees that their products contain absolutely no fillers or bi-products and that they try to make their products as low in salt and fat as possible. With so many options that are gluten, lactose, and soy-free with no MSG added we know that we can find great ingredients for all our recipes.
JUMP TO RECIPE
---
BACON EGG BITES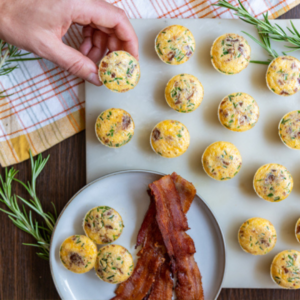 No time for eggs & bacon? Try these!

instructions:
Preheat a sauté pan over medium-high heat. Cook the bacon, flipping 1-2 times, until crispy. Place on a paper towel to absorb the grease then chop into bite-size pieces. Set aside.

Fill up an oven-safe baking dish (such as a brownie pan or oven-safe glass dish) with water and place it in the oven. Preheat the oven to 300 F (with the water dish in it).

In a blender, add the eggs, shredded cheese, cottage cheese, chives, salt & pepper. Blend for about 15 seconds until just blended. Add bacon bits and using a spoon, mix until well combined.

Add approximately one inch of water to an oven-safe pan followed by the silicone muffin mold. Pour the bacon-egg mixture into a silicone muffin mold.

Place in the preheated oven and cook until completely set about 30-32 minutes. Allow to cool before removing. Pop them out and enjoy some now and save the rest for a week of breakfasts!
Original recipe and photos from @ChezChanelle
---
Grimm's Fine Foods is proudly celebrating its 70 Year Anniversary. Started in 1951 when two brothers, Henry & Jacob Grimm, opened a small butcher shop on East Georgia Street in East Vancouver. They shared a handful of recipes and a vision to make the best products possible for their community. Over the years, their integrity & commitment to quality never wavered. Premium ingredients and a desire to meet the ever-changing needs & tastes of families guided the company's continuous growth. Today Grimm's Fine Foods offers an expansive variety of high-quality meat products, fine cheeses, tortillas, wraps & snacks!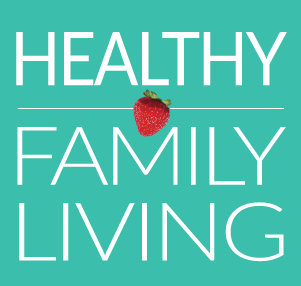 Wondering what to do with the kids in Metro Vancouver this weekend, or what to make for dinner? You can find it at HealthyFamilyLiving.com! From the Sunshine Coast to the Fraser Valley, we're the best online resource for busy parents looking for practical tips for healthy, active, sustainable living. For the latest on family events, outdoor adventures, birthday parties, camps & classes and kid-approved recipes, follow us on Facebook and sign-up for our parent-approved e-newsletter!