Breakfast feeling a little flat? Looking for a new way to roll into the morning? All puns aside, you will not believe how yummy these Pancake Roll-ups are!  Follow this simple recipe and you will have the morning all wrapped up... sorry we couldn't help it! 
JUMP TO RECIPE
---
---
PANCAKE ROLL-UPS WITH STRAWBERRY JAM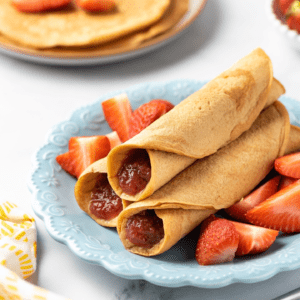 An easy extra special start to the day!
Makes 3-4 servings.
Ingredients:
2 cups

 

Pancake Mix

 

¾ cup + 2 tablespoons water
1 teaspoon vanilla extract

2

 tablespoons butter
1 jar

 

Strawberry Jam
½ cup strawberries (cleaned, hulled & cut into quarters)
instructions:
In a large mixing bowl, add Pancake Mix, along water and vanilla extract, whisk to a smooth batter consistency.
Heat a non-stick griddle over medium heat, add a teaspoon of butter and let it melt.
Pour ½ cup of pancake batter over heated griddle, cook until golden brown and flip to other side using spatula and let it cook for a minute or so. This pancake should be larger than the regular pancakes.
Place a small clean kitchen towel ready over a plate. Once the pancake is cooked, transfer it to the kitchen towel. Gently roll the pancakes along with the towel and let it set for few minutes until the next pancake is ready. (This helps to maintain the shape of rolled pancake!)
Repeat the pancakes with remaining batter and follow the same instructions with the kitchen towel.
Once the pancake is cool enough to handle, fill the rolled pancakes with Strawberry Jam. Place the rolled pancakes in a plate with strawberries and serve.
Recipe notes
- Make the pancakes bigger than the regular size. 8-inch skillet/ griddle should be enough, just use ½ cup of batter and spread a little.
- Use fresh & clean kitchen towel to roll the pancakes.
- The rolling should be done when the pancakes are hot, so that it retains its shape.
---
Concerned about their family and friends health as well as their own, the soon-to-be founders of
GOOD GOOD
wanted to find healthier eating options. As they searched the shelves, they were unable to find healthier options that matched the taste of their sugary counterparts. They decided to set a standard to raise the taste of no added sugar foods, by producing high-quality and naturally derived sweeteners, jams, spreads & bars.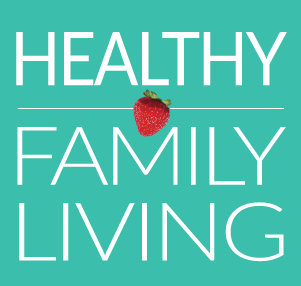 Wondering what to do with the kids in Metro Vancouver this weekend, or what to make for dinner? You can find it at HealthyFamilyLiving.com! From the Sunshine Coast to the Fraser Valley, we're the best online resource for busy parents looking for practical tips for healthy, active, sustainable living. For the latest on family events, outdoor adventures, birthday parties, camps & classes and kid-approved recipes, follow us on Facebook and sign-up for our parent-approved e-newsletter!