Remember the joy of having a banana split as a kid? With these easy to make dairy-free & vegan-friendly Chocolate Banana Split Protein Pancakes, you can experience that same joy every morning! Our kids loved them and we found that they were full all morning.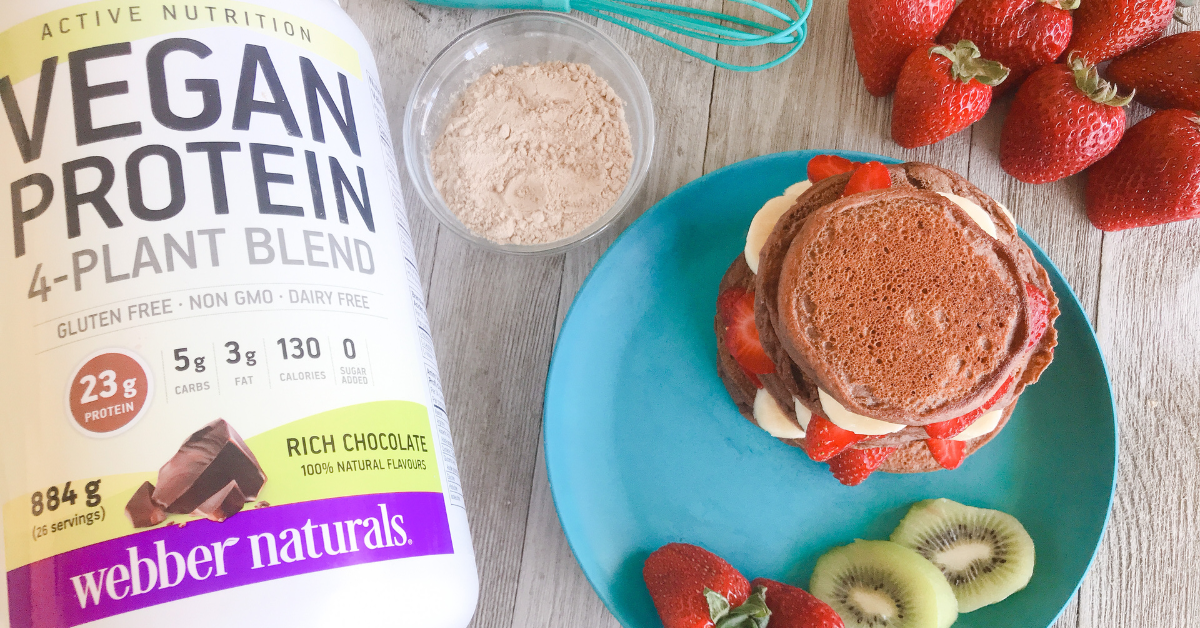 To add a solid nutritional base of plant-based protein, we added Webber Naturals Vegan Protein 4-Plant Blend Rich Chocolate to our pancake batter. The kids love the special chocolatey treat and we know that this protein-packed fruit-topped breakfast will set them up for a great day. We wrapped the few left-over pancakes and had them topped with peanut butter for breakfast the next day!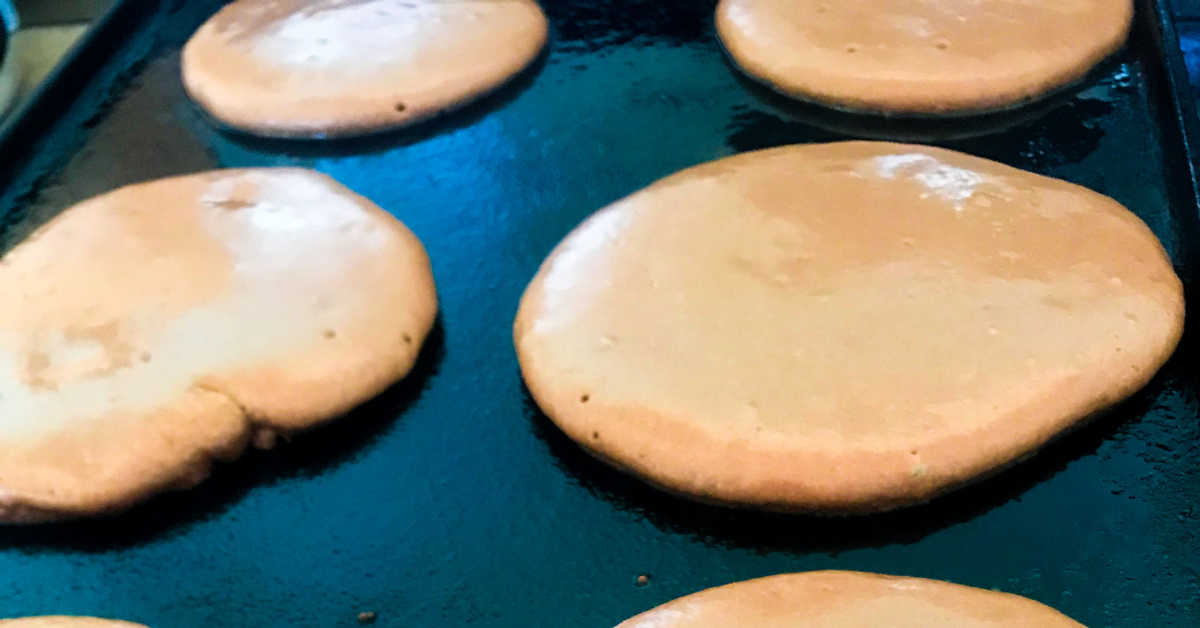 Using your favourite mix for these pancakes means that they come together quickly for a weekday breakfast and they're SO easy that the kids can make them themselves (with a bit of supervision) for a fun weekend activity.
Active Nutrition Vegan Protein from Webber Naturals is a delicious 100% naturally sourced, four-plant protein powder. Every serving provides 23 g of non-GMO vegan protein including 4.1 g of branched-chain amino acids (BCAAs). Dairy-free, gluten-free, and non-gritty, Active Nutrition Vegan Protein is high in protein and contains no artificial sweeteners, making it ideal for active families.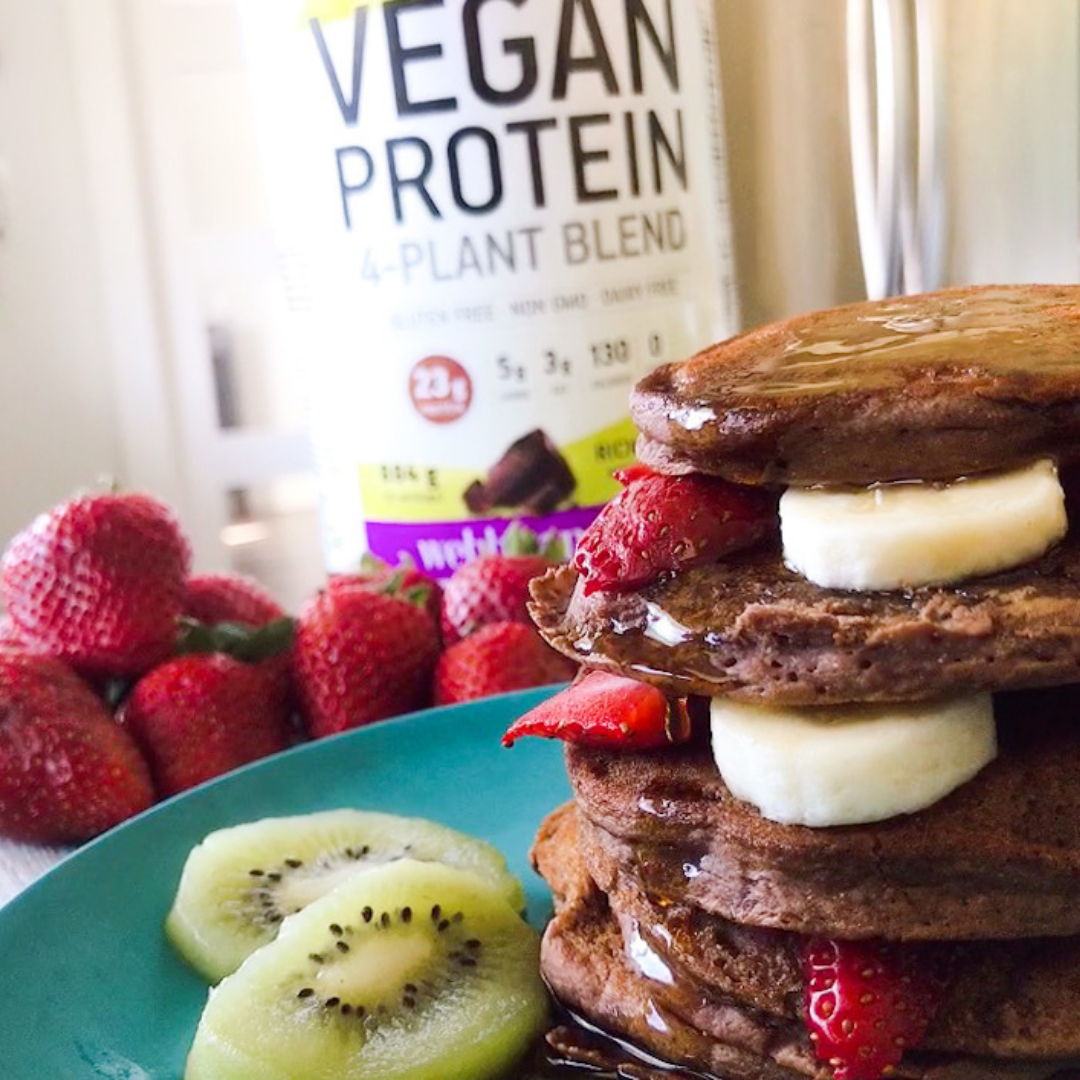 CHOCOLATE BANANA SPLIT PROTEIN PANCAKES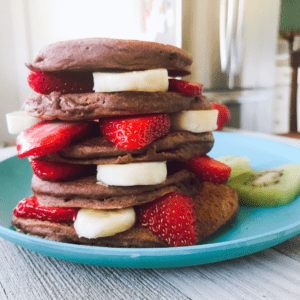 Fun vegan pancakes with a twist!
Ingredients:
½ cup milk of choice (unsweetened)

1  cup of your favourite pancake mix

¼ cup high-quality cacao powder 

1 tsp vanilla

1 tbsp cold coffee (optional but really brings out the chocolate flavour)

¼ cup chocolate protein powder we use

Vegan Protein 4-Plant Blend Rich Chocolate

Sliced strawberries and sliced bananas for garnish

Maple syrup for topping
instructions:
In a large bowl, mix the pancake mix, cocoa powder & protein powder. 

Add all of your wet ingredients. stir until incorporated. It's important not to over-blend the mixture for fluffier pancakes. 

Heat a non-stick skillet or frying pan over medium heat. Once the pan is heated, coat lightly with a cooking spray or wipe with coconut oil. 

Drop batter into the pan in small circles spaced 2 inches apart. Aim for about 1/4 cup of batter for each.

Cook for 2-3 minutes or until you see bubbles starting to form on the surface and you can easily slide a spatula underneath. Flip gently and cook for 2-3 minutes on the second side. Remove from the pan and keep warm.

Repeat until all the batter is used. Top with sliced fruit and syrup.
You may also enjoy our Tropical Protein Smoothie Bowl or Lemon Raspberry Protein Muffins!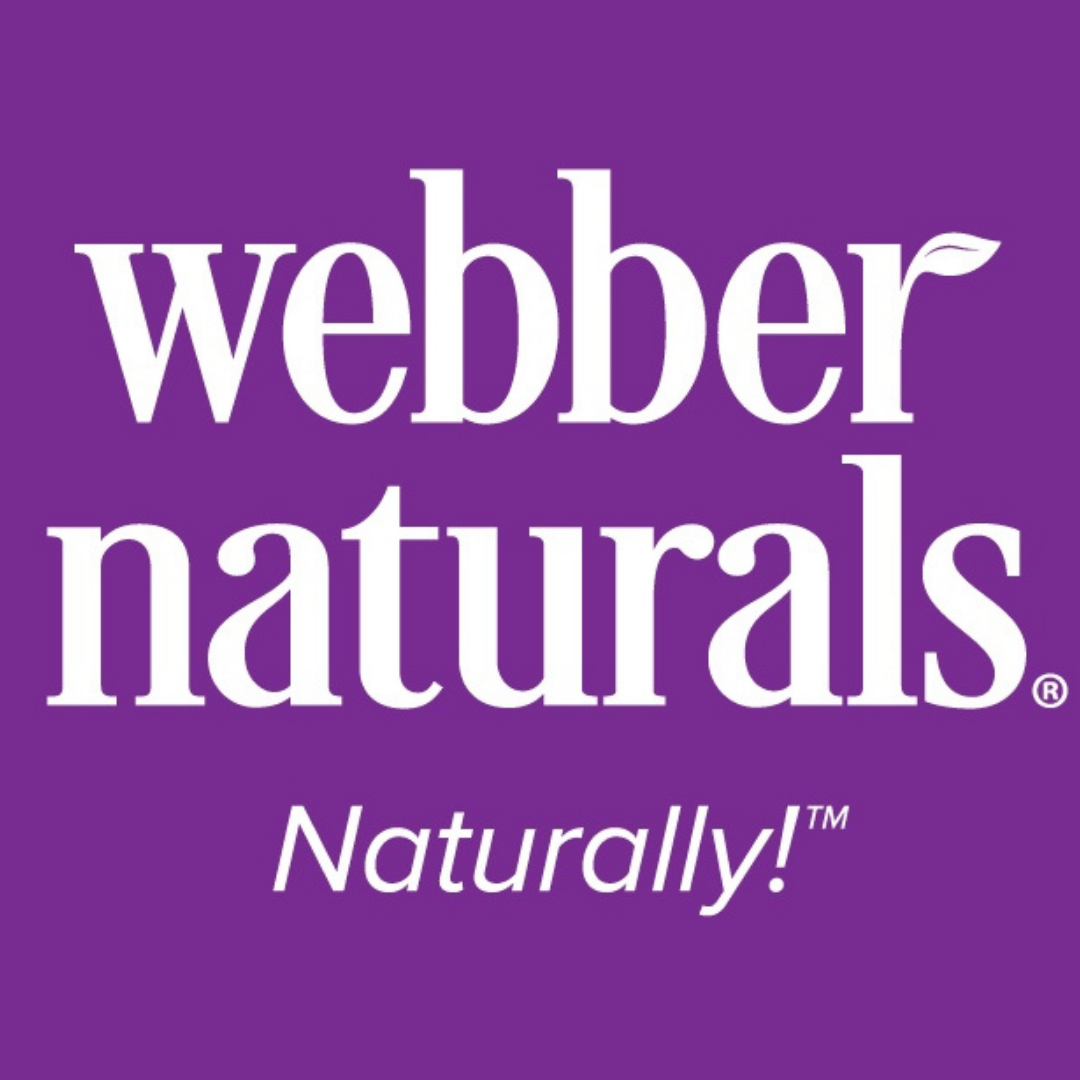 Proudly Canadian since 1948, Webber Naturals is dedicated to delivering superior vitamins and supplements that put your health and the planet first. Sustainably sourced and of the highest quality, without compromise. That's Webber Naturals. We love that they currently have hundreds of acres of organic farmland in the beautiful Okanagan Valley of British Columbia, Canada, where they grow, harvest, and process their non-GMO, organically grown herbs and plants. Click HERE to learn more.
Co-founder of Healthy Family Media and the Healthy Family Expo, Kay is an adventurer & Ironman triathlete, as well as mum to an active 11-year-old. Originally from Montreal, she has been proud to call British Columbia home for over 15 years. Whether running, hiking & biking in the mountains or creating healthy meals in the kitchen, Kay is always up for something new.  Her contagious enthusiasm & zest for life mean we're never quite sure what she'll be up to next, but we're sure that it will be an amazing adventure!