Taco Tuesday is a big deal for us!
Once a week we are guaranteed to make a meal that the whole family will love and that they can build themselves. So when we considered changing it up with quesadillas on the very day that Taco Tuesday fell on Cinco de Mayo … well, we were hesitant to say the least. After all, we had been training for this day for a long time.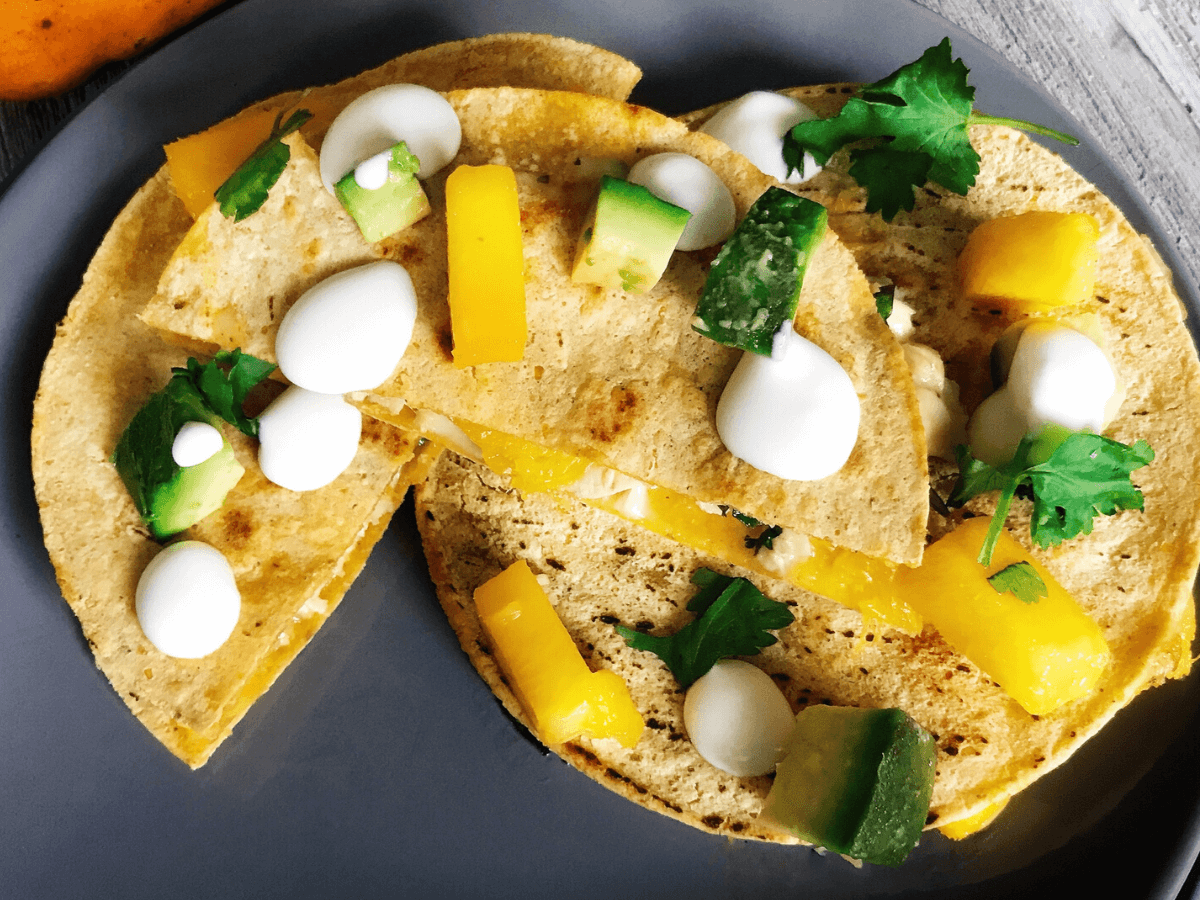 Luckily we went with our instinct (or you could say our guts) and decided to live dangerously! These Chicken & Mango quesadillas are beyond easy and are the perfect size for little hands. We kept the heat separate by serving them a lime sour cream and one of our favourite hot sauces on the side.
Taco Tuesday is a dream when it comes to meal planning. Tacos & quesadillas are so versatile and can be fused with almost any cuisine or ingredient. Here we kept it simple with 4 ingredients: mango, chicken, cheese, cilantro and served with more mango, avocado, lime sour cream & hot sauce. You could add black beans if you like but we enjoyed these with a gorgeous black bean soup, so we skipped the beans. The result was a quick dinner with clean & healthy ingredients.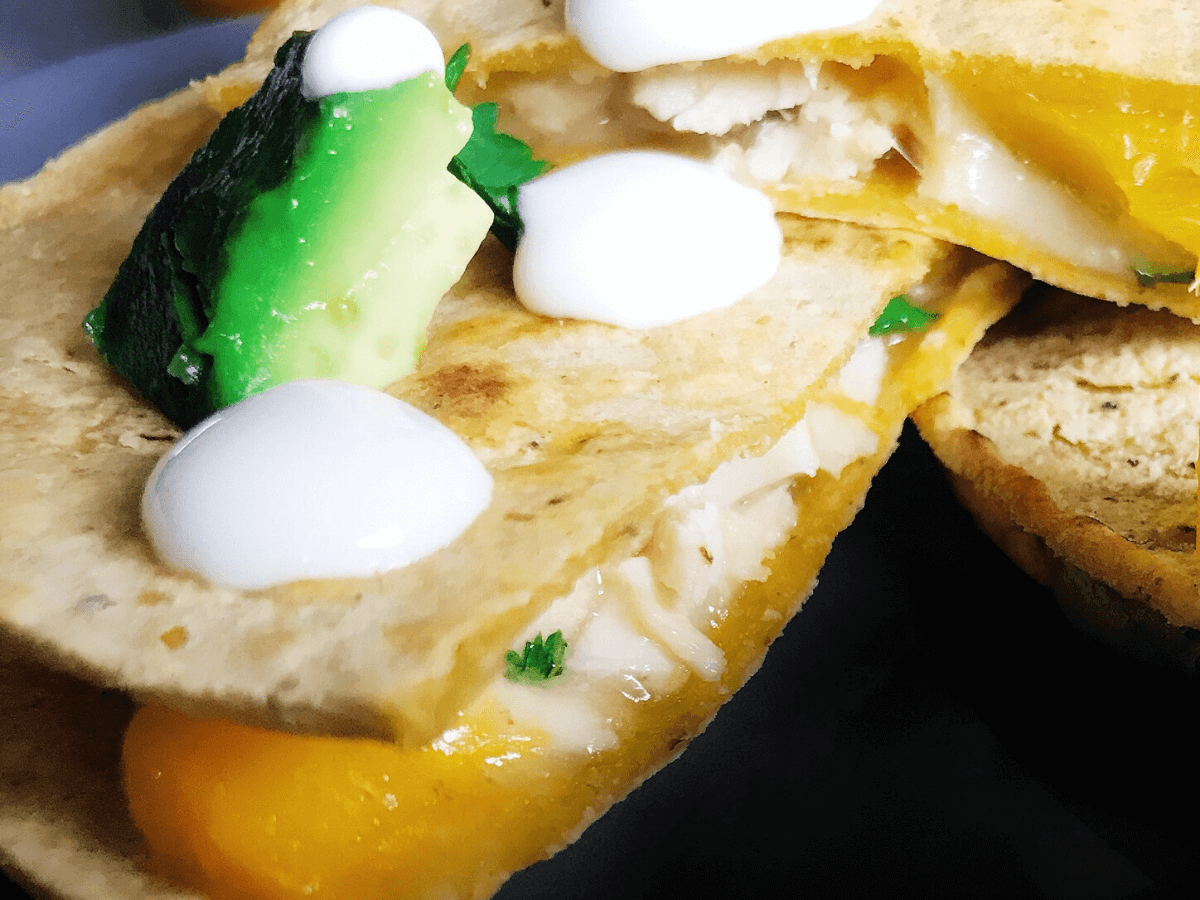 Mango Chicken Quesadilla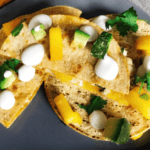 1 cup cooked chicken ((we use leftover rotisserie chicken))
1 mango (peeled and cubed)
1 1/2 cup grated cheese (either strong white cheddar or mozzarella)
1/2 cup chopped cilantro leaves
12 small corn tortillas
cooking spray
lime sour cream
2 tsp lime juice
1 tsp lime zest
1/2 cup sour cream
Chop the chicken, mango & cilantro and grate the cheese.

Lightly spray one side of the tortillas with cooking spray.

Place a tortilla spray-side-down and sprinkle some cheese on the non-sprayed side. This cheese will act as the glue to keep your quesadilla from falling apart when cooked.

Top the cheese with mango, chicken, cilantro and then a bit more cheese.

Place the top tortilla spray-side-up on top of the filling. Repeat with the rest of the tortillas.

Heat a large frying pan to medium-high heat.

Place as many quesadillas in the pan as you fit comfortably without them overlapping. Cook until the bottom is nicely toasted and then carefully flip over. Continue to cook until the cheese is melted on the inside and the tortilla is browned on the outside.

Remove from the pan, slice in half and serve with avocado, more mango, lime sour cream and your favourite hot sauce.
Lime sour cream
Simply mix sour cream, lime juice and zest in a small bowl and set aside.
Born & raised in Vancouver, and co-founder of Healthy Family Media and the Healthy Family Expo, Angela is a reformed divorce lawyer turned healthy family champion! By day, she thrives on connecting conscious brands with busy Vancouver families. By night, you'll find her wrangling two feisty daughters, choosing between instant pot or healthy freezer meals for dinner, and singing with MomChoir. She especially loves sharing her favourite family-friendly finds with other Lower Mainland parents!