Do you love chocolate brownies but have a hard time finding recipes that are allergen-friendly, tree nut-free, and peanut-free? This is the most delicious allergen-friendly recipe that's made with Healthy Crunch Seed Butters.
These seed butters are made with sunflower seeds, making them tree nut-free, peanut-free & school-friendly. Using their Crunchy Seed Butter and Chocolate Seed Butter to create these Chocolate Swirl Brownies makes them super rich in chocolate while being gluten-free, tree nut-free, peanut-free, dairy-free, and vegan. It's the perfect recipe for any time of year when you're looking for delicious and comforting foods. Happy Crunching!
JUMP TO RECIPE
---
---
KETO CERTIFIED & SCHOOL APPROVED
Healthy Crunch Chocolate Seed Butter is allergen-free & low in sugar with only 3 grams of sugar per serving.  We love that with Healthy Crunch we can trust that we are getting whole real food that makes us feel good inside & out. Sunflower seeds are an excellent source of vitamin E, selenium, vitamin B, and zinc. Vitamin B supports energy production. Selenium and zinc support the immune system. And we love that they're rich in protein, healthy fats, and antioxidants!
JUMP TO RECIPE
---
DOUBLE CHOCOLATE SWIRL BROWNIES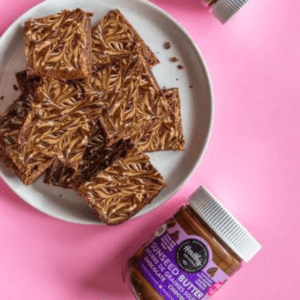 Allergen-friendly plant-based brownies!
Ingredients:
1

/2 cup Dairy-free chocolate chips

1/3 cup Vegan butter or coconut oil

1/4 cup Cocoa powder

1 teaspoon Pure vanilla extract

1 cup Coconut sugar
1/2 cup Dairy-free milk (coconut milk, oat milk)
1 cup Gluten-free all-purpose flour
1/2 teaspoon Baking powder
1/4 teaspoon Salt

1/2 cup additional Chocolate chips, optional
Seed Butter Swirl:
1 tbsp Vegan butter, melted

⅓ cup Organic powdered sugar

½ tsp Vanilla extract
instructions:
Preheat oven to 350

°F

. Lightly grease an 8 x 8-inch baking pan.

In a large microwave-safe bowl, add the chocolate chips, vegan butter or coconut oil, and cocoa. Melt in the microwave for 60-90 seconds until melted and smooth. Mix well.

Stir in the vanilla and sugar, then stir in the milk until smooth.

Add the gluten-free flour, baking powder, and salt to the bowl with the chocolate mixture. Stir with a wooden spoon until just combined. Fold in extra chocolate chips, if desired.

Transfer the batter to the prepared pan.

Make the swirl: In two small bowls, add

 

Healthy Crunch Chocolate Seed Butter

 

to each bowl along with equal distributions of the remaining ingredients. Mix well.
Drop spoonfuls of

 

Healthy Crunch Crunchy Seed Butter

 

mixtures on top of the brownies, then swirl it with a butter knife.

Bake for 35-40 minutes. For best results, let the brownies cool completely before cutting. 
Enjoy! Post a pic of your creation on Instagram & tag @healthycrunch & @hflvancouver!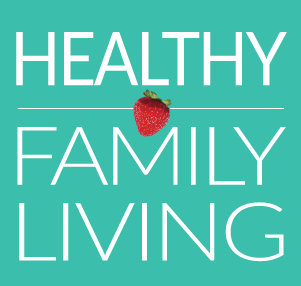 Wondering what to do with the kids in Metro Vancouver this weekend, or what to make for dinner? You can find it at HealthyFamilyLiving.com! From the Sunshine Coast to the Fraser Valley, we're the best online resource for busy parents looking for practical tips for healthy, active, sustainable living. For the latest on family events, outdoor adventures, birthday parties, camps & classes and kid-approved recipes, follow us on Facebook and sign-up for our parent-approved e-newsletter!