Dutch baby is a puffy german pancake cooked in the oven in an ovenproof dish. We like to use our cast iron pan since the natural nonstick properties make cleanup a snap. Although this pancake is ridiculously impressive when it comes out of the oven and has a sense of magic and mystery about it, it is dead easy to make with ingredients you have in the house. All you need are eggs, milk, flour, a bit of sugar and butter.  Prep time is 5 minutes. The only hard part is waiting the 30 minutes for it to bake… we find a nice cup of coffee is the perfect distraction.
You can serve with any fruits you like but berries are especially good. We have ours with raspberries, powdered sugar, and lemon juice. The pancake its self is not very sweet so a little powdered sugar on top is just right. A perfect way dish to enjoy as a birthday breakfast surprise, Mother's Day or Easter brunch or to make any day special!
At our house, this Dutch baby if perfect for two people to split (Our kids eat like adults.) If you were to serve this as part of a larger breakfast or with fruit and a protein then it would feed the family or you could double the recipe and use 2 pans in the oven at the same time. Think of this pancake as a beautiful serving of crepes that you don't need to cook individually… mix, bake, slice & enjoy!
Dutch Baby Pancake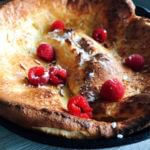 2/3 cup all-purpose flour
2/3 cup whole or 2% milk
3 large eggs
2 tablespoons granulated sugar
1 teaspoon vanilla extract
1/2 teaspoon fine salt
2 tablespoons unsalted butter
Fruit (berries, lemon juice, powdered sugar, jam, syrup or chocolate hazelnut spread for serving)
Combine all the ingredients except for the butter in a blender & mix until smooth ( approx 20- 30 seconds stopping to scrape down the sides after 10 seconds.

Let the batter sit while you bring the oven up to 430C with your oven proof pan on the middle rack in the oven to heat up.
When the oven is up to temp, PUT ON OVEN GLOVES DO NOT TAKE THEM OFF!!! Remove the pan from the oven, and place on the stove, add the butter to the pan and then swirl to coat. Quickly add the batter, swirl once and then put back in the oven.
Bake the Dutch baby 20 minutes until it is puffed up, lightly browned with darker edges.
Serve while hot & puffy topped with fruit, berries, lemon juice, powdered sugar, jam, syrup or chocolate hazelnut spread.
We find it easiest to remove the whole pancake from the pan and transfer to a cutting board to serve.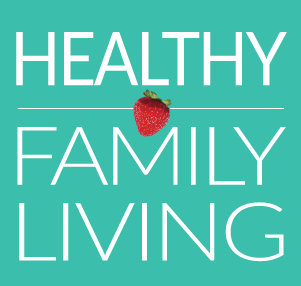 Wondering what to do with the kids in Metro Vancouver this weekend, or what to make for dinner? You can find it at HealthyFamilyLiving.com! From the Sunshine Coast to the Fraser Valley, we're the best online resource for busy parents looking for practical tips for healthy, active, sustainable living. For the latest on family events, outdoor adventures, birthday parties, camps & classes and kid-approved recipes, follow us on Facebook and sign-up for our parent-approved e-newsletter!