Silky smooth and deeply satisfying, a little goes a long way with this dreamy chocolate dessert. Big nutritional hitters of cocoa and avocado blend together beautifully and are contrasted by the sweet crunchy topping from Hippie Snacks Seed & Nut Clusters. For the longest time, we wondered what is the difference between cocoa & cacao? Turns out cocoa powder is derived from the cacao plant. So now you know too!
Cocoa is a gold mine of nutritional goodness! It not only brings us the rich chocolate flavour that may well be the most-craved taste on the planet, but it also contains iron, manganese, magnesium, and zinc. Iron is important for carrying oxygen in the blood, making red blood cells, and supporting the immune system. Manganese supports bone health, metabolizes key nutrients, and acts as an antioxidant. Every muscle and nerve in your body relies upon magnesium to maintain normal function. Magnesium also has a direct connection to the electrical system of your heart, keeping heart rhythm steady and supports a healthy immune system, in part through its work with omega-3s. And zinc supports the immune system while helping to produce and develop new cells.
Add the "good" heart-healthy monounsaturated fats found in avocadoes and its "nutrient booster" effect on the absorption of fat-soluble vitamins, and the minerals found in the coconut, nuts & seeds of the crunchy topping and this dessert becomes a true superfood treat. Go ahead, indulge in your health!
Dairy-Free Chocolate Avocado Pudding With Coconut Crunchy Topping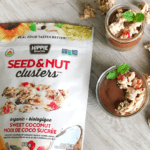 1 cup unsweetened non-dairy milk
2 ripe avocados peeled and pitted
1/4 cup unsweetened organic cocoa powder
1/2 cup pure maple syrup
1 teaspoon natural vanilla extract
1/4 teaspoon natural coconut extract – optional
Pinch of salt
Hippie Snacks Sweet Coconut Seed & Nut Clusters for topping
Put all the ingredients into a blender and puree on high until smooth and creamy. You may need to stop and scrape down the sides with a spatula.
Transfer the pudding to small jars or bowls and chill in the fridge for at least 3 hours. This will erase ALL avocado flavour!
Serve cold topped with seed clusters and fresh berries (note it's best served the same day as it's made).
Co-founder of Healthy Family Media and the Healthy Family Expo, Kay is an adventurer & Ironman triathlete, as well as mum to an active 11-year-old. Originally from Montreal, she has been proud to call British Columbia home for over 15 years. Whether running, hiking & biking in the mountains or creating healthy meals in the kitchen, Kay is always up for something new.  Her contagious enthusiasm & zest for life mean we're never quite sure what she'll be up to next, but we're sure that it will be an amazing adventure!